Family drama. That new show. Work demands. Exciting opportunities. Volunteering at church. Bad news.
You want to know what God wants you to do with all this—not to mention the questions you have about why He works the way He does. But you haven't had a chance to talk with Him in a long time.
As your stress mounts and anxiety kicks in, your cell phone buzzes again … and again.
If you ever feel that you can't really focus on your relationship with God, or if you struggle with how to prioritize your increasingly fragmented life, Pastor Sherman Burkhead offers you a plan filled with hope and clarity, starting at the heart of the matter and working it out into your daily life.
Sherman Burkhead is the senior pastor at First Baptist Church of Boron, California, a dynamic fellowship of growing disciples who want to go deeper in their faith and broader in their outreach. A former atheist to whom God graciously revealed Himself and brought salvation, Pastor Sherman is passionate about sharing the hope of the gospel and a relationship with Jesus with those in his community and beyond.
In this highly relatable book, you will discover how to: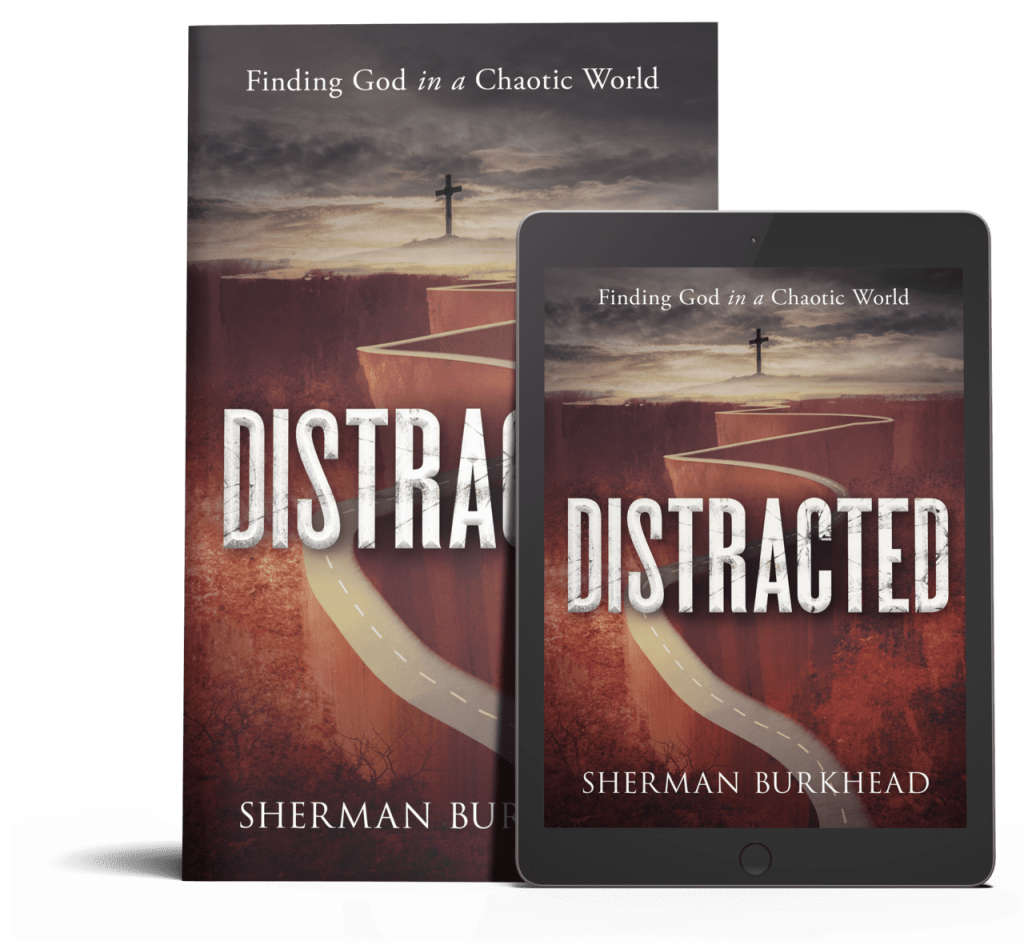 Each chapter concludes with application-focused discussion questions, a journal prompt, and a suggested action step to help you put into practice the lessons you learn and begin to center your daily life on God.
You don't have to stumble through each day unfocused, reactionary, and unintentional. In Distracted: Finding God in a Chaotic World, you will discover how to connect with God in spite of life's unrelenting barrage of distractions—living your life in His strength and purpose each day!
What others say about the
book
"This book has been life changing for me. It taught me the importance of reprioritizing my time and putting Jesus first. I now start my day by reading my Bible and praying. My life has been blessed because of it."
"A thoughtful guide to refocusing your mind and life on what is really important. This is a good challenge to all of us...to sort out the things that are trivial and to be mindful of the parts of your life that have eternal consequences."
"Great book, packed with TRUTH, wrapped in love, not condemning but definitely makes you take a step back and think. And then surrender these different areas over to Christ for TRUE healing."
"I really appreciated how this book was so practical in the different ways it showed how we are distracted in our walk with God. It helped me search my heart to see what is first place in my life, and made me question what my priorities are. If your first love is the Lord and you want your relationship with Him to grow and deepen without distractions, you will find this book a tremendous help".
"I am finally getting back to your book and want you to know that God is using you and I am so very grateful. I pray that God will continue to pour out to you so that you overflow with his pre-designed plans for your life. I love the Lord as you know but I have been distracted. The Holy Spirit used your book to confirm His thoughts for me. He even used the first chapter to minister to many at the Home Show fellowship gathering that I have the privilege to lead. We were all in tears and confessing that we were distracted business owners. Thank Sherman for thinking of me and I know that this year will be amazing! As God continues to love us and pour into our hearts."